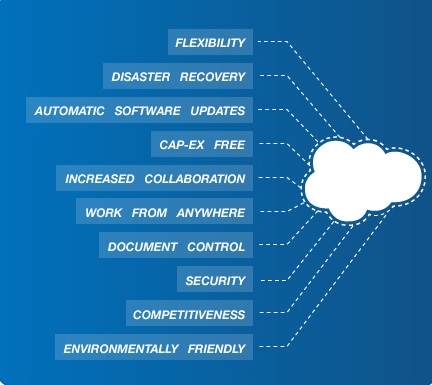 Advantages of the Cloud
Accessibility From tablets to smartphones, netbooks to desktops, we're using more devices on a daily basis than ever before, and toggling files between each of these devices can be cumbersome and complex. Not so with online storage services. You can access your account from any internet connection, whether you're on a mobile browser or your work computer.
Flexibility The ability for us to expand in size and bandwidth can be achieved instantly to meet the demand because of the vast capacity of the service's remote servers. Unlimited storage capability and scalability ensures that all of your valuable data is stored safely and securely.
Security Cloud storage serves as an added layer of data protection for your precious and irreplaceable data. Backups are kept in very secure data centers in multiple geographic areas that is physically removed from the originals. With online storage services, data is encrypted both during transmission and while at rest, ensuring no unauthorized users can access the files. Also, the data is being automatically backed up, providing additional security and peace of mind. Because of the data center hosting, you're getting the added benefit of disaster recovery.
Protection Cloud computing providers provide Disaster recovery plans and are able to resolve issue nearly 4x faster than businesses not using the cloud service. Because our servers are automatically backed up in the case of a catastrophic data loss event the data can be restored with almost zero downtime.